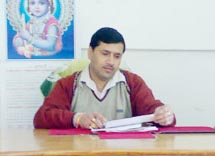 CHAIRMAN'S MESSAGE
It is with a view to respond to the present day social and educational needs of the society that Shantiniketan Education and Welfare Society was founded. The main objective of the society is to provide facilities in the fields of education. The society has started Shantiniketan college of education at Hira Nagar Hamirpur (H.P.) offering Bachelor of Education [B.Ed.] course with the endeavor to prepare qualitatively trained teachers who can impart quality education to the students to meet the exigencies of the contemporary times. With the progression of time the society had started J.B.T. 2years course in 2008. Only persons with sound autonomous thinking, rational approach, judgments and a positive attitude towards life can meet the challenges that this world offers.
In addition to inculcating among teachers the professional competence there remains an important area of attention in looking after their rehabilitation. The potential of this requires to be tapped within and outside India. If prevailing trends are any indication, well qualified and suitably skilled teachers are in demand abroad particularly in the Western World.
To fulfill these requirements our future teachers have to be updated with expertise, accent, exposure and mannerism suitable to the foreign environment also. Shantiniketan Education and Welfare Society have decided to rise up the occasion with an intention to start well conceived capsule with scheme of imparting part time training in the campus of the college for teachers holding or pursuing degrees in education in addition to prepare students for various competitions. The Society has made all the facilities required fro the enhancement of pupil teacher skills in its new campus. The site is approximately 900 mts off the main road near DAV School Hamirpur
It is planned by iving full attention to facilitate the vocational inputs like guidance, counseling and placement linkages for which a detailed handbook of information will appear separately.
Pawan k. Ahluwalia
Chairman-cum-President