" INTRODUCTION "
The Shanti Niketan College of Education was established in the year 2003 and approved by NCTE, NRC Jaipur and is affiliated to Himachal Pradesh University Shimla and HP Board of Sechool Education Dharamsala to impart instructions to trainees, both boys and girls. The head office of the college is located at Hira Nagar, Hamirpur (H.P.). it is well connected with road network.
The new campus of the college is located near DAV school Hamirpur, spread over 3829+1292= 5121 sq.mts (14 Kanal) land area. The newly constructed building meets all requirements of NCTE for B. Ed. D.El.Ed., M. Ed., B.A. / B. Ed. & B.Sc./ B. Ed. Four year integrated course. It has playground, canteen and sufficient parking space. It is worth recording that the abundance of pine trees in the vicinity of present and new site also provide a healthy and pollution free environment for staff and students.
The college library is rich in terms of books on text, reference and general nature. In addition the college has subscribed to nine daily newspapers (English and Hindi)., employment news (weekly) and ten magazines and journals. There is proper arrangement and adequate seating arrangement for students in library where the students can consult the relevant reading material.
It is an established fact that, "without good teacher even the best system is bound to fail and with good teachers even the defects of a system can be largely overcome".Highly qualified, experienced, dedicated and accountable faculty including visiting professors are conducting the course. It si well known fact that quality of teachers, their commitment factor, motivation for the teaching profession and their professional training is most important factor which influences the quality education. Therefore the training of the teachers become an important component in improving the quality of teachers in the schools. The institute endeavours to provide modern facilities for curricular and co-curricular programmes.
The college had actively participated in social & education activities, organized by the government and private agencies. At the Hamir Utsav, Youth festival, World AIDS Day. Awareness day, Sports meet, 15 August and 26 January, our staff and students have made a remarkable performance. Our educational tours enriched the life of students and teachers which they demonstrate in their day to day interaction. The diligence of our students and staff have resulted in high achievements of our teacher trainees in B. Ed. Examination.
Gazette Notification of Incorporation of Shanti Niketan College of Education Hamirpur Himachal Pradesh by NCTE: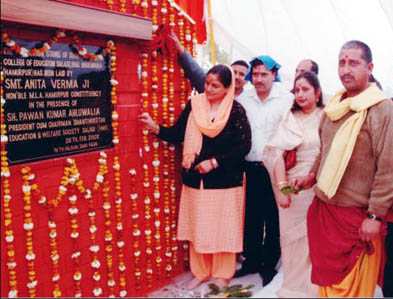 Click on the picture above
to view video