COLLEGE library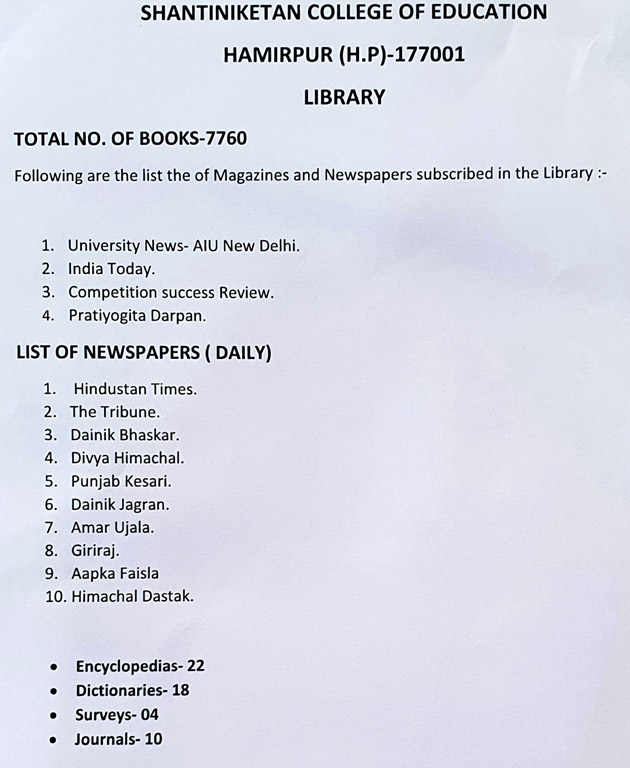 The library service is one of the best among the college of education in H.P. The students are required to make use of library facilities regularly as a part of their curricular program. A variety of tiles by eminent Foreign/Indian writers, with reference books, encyclopedia and dictionary have been kept in the library room for use of students.
Library Rules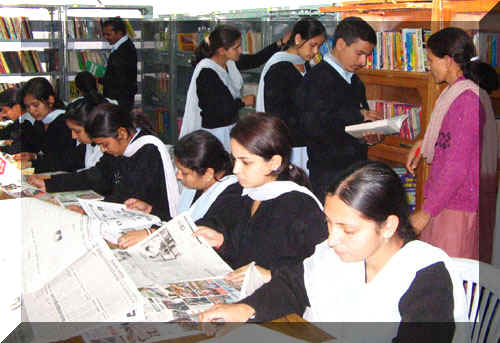 Non Transferable Library card is issued to all the students and book can be issued only on production of Library card. Students must get the identity cards issued within ten days of joining the college. Two copies of their passport size photographs should be handed over to the Librarian. Loss of card Should be Immediately reported to the Librarian who will issue a duplicate card on payment of Rs. 50 only.
The Library books may be retained by the students up to a period of 14 days after which they must return them. A fine of Rs. 2.00 per volume per day is change for the books kept for more than 14 days after the date of issue.
If book at the Time of returning to Library is found defaced or damaged in anyway, the last borrower will be required to pay its price for the damage done.
Leave from the college does not imply exemption from the return of Library books. The Books may be returned to the Library by post under registered, if necessary.
The students are expected to observe perfect silence in the Library and are expected not to disturb others in anyway.
The number of books that can be borrowed at a time is two.
Students responsibility will not be over until the book is shown as returned on the Library card. Students are advised to be very careful in getting the signature of the Librarian on their library cards while returning books.
8. Books reserved for
the staff members and reference books current periodicals will not be issued except for consultation the Library.
TOTAL NO.OF BOOKS 7760
Following are the list of Magazines Newspapers and journate subscribed in the Library
1. University news AIU new Delhi 2. Outlook 3. India today 4. Competition success Review 5. Pratiyogita Darpan 6. Yojana
LIST OF NEWSPAPERS (daily)
1. Hindustan Times 2. The Tribune 3. Dainik Bhasker 4. Divya Himachal 5. Employment News 6. Punjab kesari 7. Dainik Jagran 8. Amar Ujala 9. Giriraj 10. Prithvi Lok .
Encyclopedies 22. Dictionaries 18. Surveys 04. Journals 10